In the early 1900s, Thomas Alva Edison, said "There is only one Fort Myers in the United States, and there are 90 million people who are going to find it out." Edison was one of the region's first seasonal residents and sparked the area's reputation as a coastal paradise. Thanks to our region's natural beauty and abundant beaches, tourism has thrived in Lee County for decades and the strength of our hospitality sector has flourished alongside it.  
Hospitality and Tourism Sector by the Numbers
Lee County welcomed 4.9 million visitors in 2019 who generated a $3.3 billion direct visitor spend in our local economy. The hospitality sector serves our local residents with one out of every five local jobs tied to tourism and hospitality. The direct impact of tourism contributes to everything that makes this slice of paradise worth calling home.  Lee County has been known as a leisure tourism destination, but it is also a business location for companies active in the Hospitality and Tourism sector. In addition, many hotel chains in 2019, 19 percent of Lee County workers were employed in the tourism and hospitality industry.
Notable Convention Centers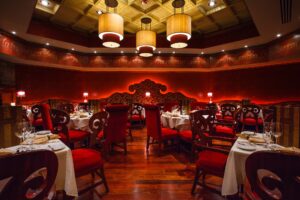 The success of hospitality and tourism are integral to the health of Lee County's economy. Some of the area's largest and most notable hotel resort brands include Sanibel Harbor Marriott, the Hyatt Regency Coconut Point, Luminary Hotel & Co. and the Westin Cape Coral, all full scale resorts with amenities catering to both business, group, and leisure travelers. 
Attractions are equally abundant in Lee County, with opportunities for expansion in this area. Fort Myers is home to the historic Edison and Ford Winter Estates. Hertz Arena is a 7,181-seat facility that hosts concerts, sporting events, and other happenings year-round. Parks and preserves like J.N. "Ding" Darling national wildlife refuge draws global visitors to view its unique wildlife, and the area's  proximity to Everglades National Park makes the region a bucket-list destination for eco-tourism.
Tourism and Hospitality Associations
The Lee County Visitor and Convention Bureau (VCB) markets Lee County globally as Fort Myers – Islands, Beaches and Neighborhoods..  The VCB facilitates travel to the area, and preserves and protects our the area's unique attributes for the benefit of Lee County residents and businesses.  The VCB also supports tourism product development through three funding programs, including attractions marketing, events marketing, and beach and shoreline. To view the latest tourism and visitor profile data for Lee County visit this page. 
The Florida Restaurant and Lodging Association boasts more than 10,000 members, including independent hoteliers and restaurateurs, franchises, theme parks and suppliers. The association offers advocacy, regulatory compliance and food safety training, and career development programs. The Lee County Chapter is one of 26 in the state.