Thanks to its close proximity to both Tampa and Miami, Lee County's value as a transportation hub continues to grow for both passenger and cargo transportation. Located midway between the two metropolitan areas on I-75, Lee County is home to one of the country's top 50 airports for passenger traffic.
Because of the county's proximity to major metropolitan centers and an international airport, the region will benefit greatly from the last-mile distribution movement. As Lee County grows as a transportation hub, autonomous vehicles and drones are expected to make shipping more efficient and alleviate traffic in the region.
Transportation Sector by the Numbers
Southwest Florida International Airport (RSW) saw more than 10.2 million passengers in 2019, and finished 2020 with nearly 6 million passengers. RSW has long been a Top 50 airport in the U.S. for passenger traffic, with recent TSA Reports showing RSW ranked 17th in the nation. According to the Florida Department of Transportation, RSW contributes $8.4 billion annually to the region's economy through direct and indirect sources. While much smaller, Page Field, the county's general aviation airport, contributes an additional $385 million annually to the region and supports more than 3,328 jobs.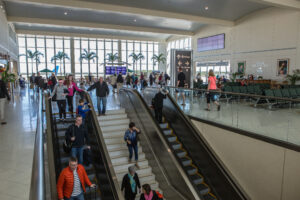 In total, the Transportation and Warehousing sector employs over 4,800 Lee County workers, a number that is expected to grow with the popularity of online shopping and last-mile distribution centers. Transportation and Warehousing produced $546 million in revenue in Lee County in 2020.
RSW's Skyplex commerce park is one of Lee County's premier economic development sites and provides 280 acres zoned for aviation-related uses. Skyplex delivers a wide range of aviation and commercial possibilities, creating a dynamic atmosphere for businesses. The property is strategically located in a Foreign Trade Zone with a direct connection to Interstate 75.
Seminole Gulf Railway (SGLR) connects the Southwest Florida region with 118 miles of track. The railways hauls newsprint, building materials, gas, plastics, stone, steel, and other commodities. SGLR also offers supply chain solutions including regional trucking and logistical services as well as warehousing and distribution from its 1.6 million square foot facility in North Fort Myers.