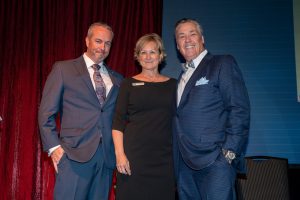 Horizon Foundation and Horizon Council announce 2022 slate of officers
Nonprofit organization supports long-term economic development and vitality of Lee County businesses
Horizon Foundation and Horizon Council
announce 2022 slate of officers
FORT MYERS, Fla. (Feb 2022) – Powered by an economic development vision and strengthened by iron-clad partnerships, a dynamic group of community leaders is poised to guide the Horizon Foundation and Horizon Council through 2022, which is forecasted to be a year of change and tremendous growth after the many challenges brought on by the coronavirus pandemic.
Recently, both the Horizon Foundation – a charitable 501(c)3 organization which raises private-sector funds to support the marketing efforts for Lee County Office of Economic Development and the Horizon Council –the only public-private advisory board to the Lee County Board of Commissioners – named their board of directors.
Named to the seven-member executive board of the Horizon Foundation were president Christopher Spiro, of Spiro & Associates Marketing, Advertising, Public Relations and Brand Architecture; vice-president Matt Roepstorff, of Gray Robinson, Secretary Ryan Carter, of Scotlynn USA; and treasurer Sandy Stilwell, of Stilwell Enterprises.
Named to the Horizon Council board were Holly Smith, mayor of Sanibel and Sanibel hotelier; vice chair/nominating committee Mark Stevens, president of Stevens Constructions; treasurer Kristy Knupp, SVP of Chicos FAS; and Secretary Guido Minaya, CEO of Minaya Global Learning Solutions, LLC. As president of the foundation, Spiro also is a member of this board. Smith serves as an ex-officio member and advisor to the foundation board.
Voting members of the Horizon Foundation board also include the immediate past president of the Horizon Foundation, Dan Eveloff of Regions Bank; the chair of the Lee County Industrial Development Authority, Robbie Roepstorff of Edison Bank; and the director of the Lee County Economic Development office, John Talmage. In addition, two new members-at-large were elected at the Foundation's annual meeting. These two individuals will represent Horizon Foundation investors and were nominated and elected by peer investors. Fred Edman of Wright Construction Group and Matt Price of Seagate Development Group are the new at-large members. Dilman Thomas, Executive Director of the Horizon Foundation, is the organization's business community liaison and first executive director in the history of the organization.
Over the past 30 years, the foundation has been instrumental in bringing major companies to Lee County, including Gartner, Arthrex, Chicos FAS, as well as numerous other thriving businesses. However, that just scratches the surface of what the Horizon Foundation strives to do for Lee County by assembling a solid economic base created and supported by our investors. The foundation continues to push for higher wages for workers, attainable housing, a better and more robust educational system, investing in infrastructure, and thus raising the standard of living and quality of life for our county's residents.
"In 2021, we moved to in-person meetings with a limited number of members present and again delivered great content for our membership. Topics that I would have never thought of that became riveting, like human resources and legal issues with work from home staff," Spiro said. "We set our sights on and energy towards the Industry Appreciation Awards since we had to table the awards in 2020 due to the pandemic, and if you were at the awards, you know the success of that sold-out event. Our positive community and business impact is a direct result of the investment Horizon Foundation members and investors make each year. We just finalized the 2021 year with our Annual Review meeting that set the tone and manner for the future."
ABOUT HORIZON FOUNDATION
The Horizon Foundation, a charitable 501(c)3 organization, was established to provide a funding vehicle for businesses to invest in the long-term economic development and vitality of Lee County. The Foundation raises private sector money to support the efforts of the Lee County's Economic Development Office and the Horizon Council to improve the area's business climate. For more information, contact Horizon Foundation CFO Dilman Thomas at 239-810-1948 or dthomas@horizon-foundation.com or visit https://www.leecountybusiness.com.